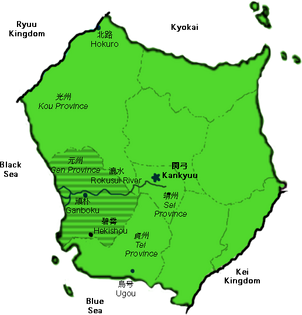 Gen Province (元州)[1] is located on the far west coast of the kingdom of En. Rokusui River is also located in Gen Province.
Gen Province is the site of a rebellion against Shoryu during the early years of his reign. Led by Atsuyu, the son of the governor of Gen Province, the people of Gen revolt against the suppositions that the king's actions has caused the province's propersity to dwindle. However, Atsuyu's own selfish intentions become apparent and the rebellion ends in favour of Shoryu.[2]
Provincial capital (州都)
Edit
Districts (郡)
Edit
Prefectures (郷)
Edit
Counties (県)
Edit
Cities (街)
Edit
References
Edit
Ad blocker interference detected!
Wikia is a free-to-use site that makes money from advertising. We have a modified experience for viewers using ad blockers

Wikia is not accessible if you've made further modifications. Remove the custom ad blocker rule(s) and the page will load as expected.