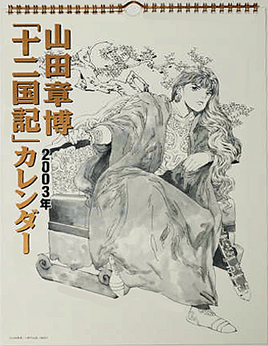 The Twelve Kingdoms 2003 Calendar (十二国記 2003 カレンダー, Juuni Kokki 2003 Karendaa) is an item of merchandise featuring illustrations by Akihiro Yamada, the artist for the Twelve Kingdoms series. The calendar features an original illustration of Youko Nakajima, a primary protagonist of the series, as the cover; the illustration was later included in a postcard book. Each month features an illustration by Yamada from the seven novels released in the series.
Item Information
Edit
Product ID (ASIN): 4063401790
Release Date: 2002-09-01
Genre: n/a
Author: Akihiro Yamada
Label: Kodansha
Artist: Akihiro Yamada
References
Edit
Ad blocker interference detected!
Wikia is a free-to-use site that makes money from advertising. We have a modified experience for viewers using ad blockers

Wikia is not accessible if you've made further modifications. Remove the custom ad blocker rule(s) and the page will load as expected.