Welcome to the Twelve Kingdoms Wiki
The Twelve Kingdoms wiki is an encyclopedia about the light novel and anime series The Twelve Kingdoms by Fuyumi Ono. The main page will be going through various changes! Come discuss what you think should happen.
Currently
We have been editing 704 articles since March 29, 2010

We are working on adding more articles and more information to improve this wiki
Contents
Here are some things to visit while you're here

Inner Universe




Reader Information



Featured Article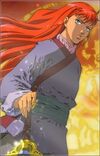 Youko Nakajima is a sixteen year old honour student in Japan who lives an ordinary life; her primary worries are her naturally red hair and an inexplicable recurring dream that haunts her. When a man named Keiki suddenly appears at her school, he bows at her feet, swearing loyalty to her and offering protection; the school is attacked by a giant bird, she reluctantly accepts his oath. He gives her a sword and transports her across the Void Sea to the Twelve Kingdoms, where she ends up in the Kingdom of Kou.

Read more...
Random Quote

There is no one who lives such a life of opulence as we monarchs do. But the reason why my lot is better than that of the maidservant is that I bear a far heavier responsibility. That is why the maidservants suffer me to walk about draped in silk and finery. That is why they lower their heads to me. The day they stop is the day my head joins the Ridge-King's on the floor. Am I wrong?
--Shushou, The Twelve Kingdoms: Skies of Dawn
News

Topic
Last Edit
Shushou Figurine
21:10, February 19, 2012
Wiki Updates
18:42, November 22, 2011
Fan Art Issues
19:22, November 16, 2011
Ranka, A Twelve Kingdoms fansite
15:07, July 9, 2011
Book 5
01:07, February 25, 2011
Twitter