Welcome to the Twelve Kingdoms Wiki
The Twelve Kingdoms wiki is an encyclopedia about the light novel and anime series The Twelve Kingdoms by Fuyumi Ono. The main page will be going through various changes! Come discuss what you think should happen.
Currently
We have been editing 705 articles since March 29, 2010

We are working on adding more articles and more information to improve this wiki
Contents
Here are some things to visit while you're here

Inner Universe




Reader Information



Featured Article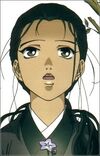 Suzu (鈴) is a kaikyaku who was born in Meiji era Japan and swept into the Twelve Kingdoms in a shoku after falling off a cliff when she was sold to pay her family's debt. Unable to communicate with anyone, she falls into despair and desperately enters the service of a sage named Riyo, who cruelly mistreats Suzu for the next 100 years. Miserable yet fearing that leaving Riyou's service will render her unable to communicate with others, Suzu hopes that the new queen of Kei will be able to rescue her because they are both kaikyaku, but is bitterly disappointed when she finds that the queen of Kei has not lived up to her expectations.

Read more...
Random Quote

You are my master, and this sword shall not doubt prove it.
--Keiki, Episode 01

News

Topic
Last Edit
Shushou Figurine
21:10, February 19, 2012
Wiki Updates
18:42, November 22, 2011
Fan Art Issues
19:22, November 16, 2011
Ranka, A Twelve Kingdoms fansite
15:07, July 9, 2011
Book 5
01:07, February 25, 2011
Twitter


Ad blocker interference detected!
Wikia is a free-to-use site that makes money from advertising. We have a modified experience for viewers using ad blockers

Wikia is not accessible if you've made further modifications. Remove the custom ad blocker rule(s) and the page will load as expected.