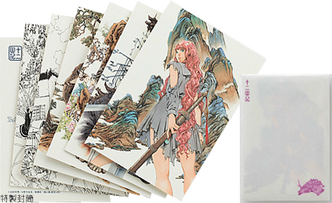 Twelve Kingdoms Original Post Card Set (十二国記 ポストカードセット) Consists of colored Cover Art and black and white inside art of the Novels:
Special envelopes are also included.
This page is a rough translation in English using a translator app. So any english words are not official--take it with a grain of salt.
Ad blocker interference detected!
Wikia is a free-to-use site that makes money from advertising. We have a modified experience for viewers using ad blockers

Wikia is not accessible if you've made further modifications. Remove the custom ad blocker rule(s) and the page will load as expected.